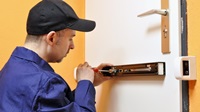 Imagine a world where keys were obsolete. Imagine how convenient never needing to use keys would be. The time is now! It's 2015 and there are several new keyless locking technologies to enter the global marketplace. Depending on your specific needs and the application will determine the type of keyless lock that will work best for you.
Whether you live in a residential property, own a new vehicle or would like to have the luxury of modern technology in another application then you will want to consider utilizing keyless locking technology. Keyless locking technologies make life better!
The top 10 most common keyless locks:
Keypad locks.
Combination locks.
Remote control locks.
Fingerprint locks.
Biometric locks.
Retina eye scanning locks.
Electronic keyless locks.
Electric key less locks.
Remote keyless locks.
Have you thought about how convenient keyless locks would be for your home?
Think about this; think about never needing to use keys on your front door to enter your home. Think about never having to worry about losing your keys again. The installation of keyless locks takes the stress of losing your keys out of your life and adds the convenience of not needing to carry keys around with you wherever you go.
While the internal locking components of both locks have similar strengths in the ability to keep an entry way secure the benefits that keyless locks have over old fashioned keyed locks are amazing. There is no comparison!
Top 10 Benefit of Keyless Locks:
Never worry about losing keys again.
Keyless locks are much more convenient.
Most keyless locks allow you to change the code.
Advancing technologies are less expensive nowadays.
Some keyless locks offer the option to automatically lock.
Many keyless locks connect via BlueTooth.
Feel confident that your property is secure.
Allow easy access into a building.
Modern designs look high-tech.
Operate the door remotely.
In today's high tech world my favorite feature that keyless locking technologies offer is the ability to be able to open the front door of a home remotely. This technology when coupled with the internet, intercom and front door camera's allow for the ability to answer your door remotely. Now that is awesome!
Did you like this blog article? Great! Read our other blog posts!
Did you like reading this blog post about keyless locking technologies? Great because we have more fun and educational blog articles like this on our Facebook page. Come and visit us there today!