Are you considering installing locks on your home or commercial property? Locks are an essential component to all residential and commercial properties. What kind of lock are you considering?
List of the most common types of latch locks:
Deadbolt lock: Probably the most common type of lock is the deadbolt. This type of lock can be found on residential and commercial properties alike. From the storage shed, front door, to the office building, the deadbolt has stood the test of time to be strong, low maintenance and low cost. Available in every color and material imaginable the deadbolt lock is a great choice when considering securing a door.
Knob lock: The knob lock features a door knob with a built in lock. The door knob lock can be found on interior and exterior doors and can even sometimes have a key hole on both sides of the knob. Not quite as secure as a deadbolt, but nonetheless an effective measure to securing a door.
Lever handle lock: Another popular door lock is known as lever handle lock. This type of lock is more commonly found on interior doors but can be found on exterior doors as well. Many lever handle locks do not require a key, rather they just have a button to lock the door from the inside. With many different styles available the lever handle lock offers a unique look to your door unavailable in any other door lock.
Keyless entry locks: Whether it is the push button combination lock or bio-identification lock, the keyless entry lock offers the ability to open the door without the need of a key. The keyless entry is wonderful for when you lose your keys or simply do not want to have to keep track of your residential or commercial keys.
Electro-magnetic lock: The electromagnetic lock has become popular in recent times because of their high security and ease of use. Available in either analog or digital technologies the electromagnetic lock has proven itself well against the other types of door locks. With the ability to take 1000's of pounds of abuse the electromagnetic lock is often more secure than the door itself.
New door locks installed offers you the peace of mind that you deserve!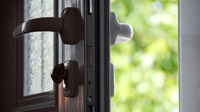 Your property is only as secure as the locks that you have installed on your property. More importantly there is no valuable of a feeling than the feeling of security and peace of mind that you will have knowing that you have installed the most secure locks that your money can buy. Spending the extra 20% to purchase higher quality door locks makes all the difference when preventing break-in's.
Did you like reading this blog post about door locks? Great! You will love to read our other blog articles on our locksmith blog located here. If you liked reading this blog post then be sure to share it on your favorite social media channels. Than you for stopping by today! –Staff