Professional Electric Strike Lock Installation and Repair Service
Need to enforce the security level of your home? Opt for an electric strike installation service in McAllen. Electric strikes are nothing but an electromechanical door locking mechanism that allows doors to remain locked from outside and opens only with a keycard.
Designed to prevent break-ins and thefts, this makes an ultimate device to protect your property. But like other modern equipment, they do stop working sometimes, and this is where the problem begins. Non-functional electric strike makes the entire lock system unresponsive.
The situation becomes even worse if it happens in the odd hour. This is where McAllen Locksmith Pros comes to your rescue.
What do you need to know about electric strike locks?
A perfect Electric strike can eliminate half of your security worries. Basically, electric strike devices are electrically powered devices that allow a lock to secure a door.
It helps you improve security at multiple exit points and usually come with a buzzer so that you can hear when the door is activated. You can find two types of electric strike locks that are fail safe and fail secure.
Fail-secure lock
It locks all the doors automatically to prevent individuals from entering or exiting the premises when there is a loss of power. You can rely on such locks to secure the property against the fire damage. Also, you will be able to unlock the fail secure locks even if the power is off.
Fail-safe lock
These locks will automatically give way to exit when there is a loss of power. Fail-safe locks are useful for safe and reliable evacuation during a fire-related event.
Who Are We?
McAllen Locksmith Pros is a leading name in the locksmith industry with 5+ years of immense experience in electric strike installation service in McAllen. At McAllen Locksmith Pros, we provide complete installation or repair services for electric strikes around McAllen.
We are bonded, insured and accredited, and we take every security need seriously. Also, you can count on us for a high-level installation and repair of electric strikes. Call us anywhere in McAllen, and we will be there within half an hour. We can serve you 24/7 and make sure that your buildings are safe with our best electric strike installation and repair service.
How can McAllen Locksmith Pros help?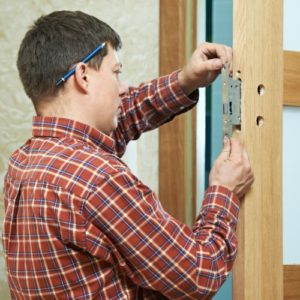 At, McAllen Locksmith Pros, we offer full locksmith services in McAllen, and we are experts when it comes to electric strikes.
We provide round-the-clock service on demand, and we will be there in 30 minutes no matter where you are to address your need. Our staff has experience and expertise to  install, maintain and repair electrical strikes for commercial and residential security systems.
We are the most trusted locksmith experts for nearly five years. Our certified experts are equipped with knowledge and expertise to handle premium electric strike installation and repair service.
What can you expect from us?
24/7 availability to address your locksmith needs
Super fast 30-minute response times
Experienced and friendly staff
Complete electric strike installation service in McAllen
Electric strike repair
Access to top electric strike locks brands
Fair, upfront pricing
Got an emergency? We are just a call away
Got stuck outside of your building due to faulty electric strike lock? Don't stress out! We have 24-hour emergency locksmith services and electric strike installation service in McAllen to reach you and solve your issue in no time.
We can help you with
Repairing of electric strike lock
Re-keying of any locks on site
Upgrading or replacement of your old locks
Whether it is midnight or a holiday, we are there to help you out. From the basic electric installation to the hefty repairs, we can address all you electric strike locks issues with our skills and experience.  Just give us a call, and we guarantee 30-minute response time. Reach us now!
Electric Strikes: Do's And Don'ts
Do:
Take the help of professionals for electric strike lock installation, repair, and maintenance.
Do comprehensive research to find out the best electric strikes that meet your needs
Learn about various brands available
Don't:
Don't try to install  and repair electric strike lock yourself as it is a complicated process that may involve safety risks
Never attempt to duplicate the electric strike design of other companies as you have different needs and property
Don't restrict your choices